CAC-FCG "Tarti 2011", 27 February 2011, Tbilisi, Georgia
Tbilisi Sports Palace hosted the National Specialized Kavkazskaia Ovtcharka and Georgian Mountain Dog breeds Dog Show "TARTI 2011".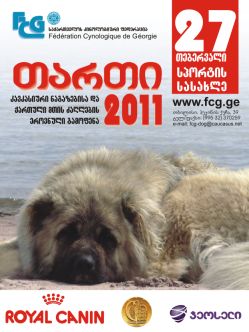 The Show was organized by Club "Bombora" and had a great success as pointed out by the ring judges Mr. Vadim Katsnelson (Ukraine) and Mr. Mamuka Chaobashvili (Georgia). More than a hundred of dogs were registered for the Show.
Sponsors: