CAC-CACIB FCI "Golden Fleece 2011", 22 October 2011
The International All Breeds Dog Show CAC-CACIB "Golden Fleece 2011" have been held in Tbilisi on 22 October.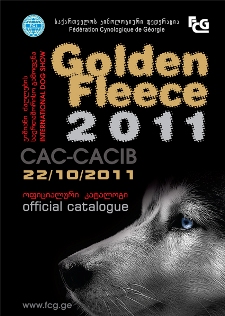 The Show was organized by the Fédération Cynologique de Géorgie (FCG). More than 180 dog from different countries were registered for it. The ring judgment was conducted by the International Experts Mr. Espen Engh (Norway) and Mr. Georgi Hristozov (Bulgaria).
Contest Winners:
BEST IN BABY SHOW

2. Caucasian Shepherd Dog

BEST IN JUNIOR SHOW

1. Caucasian Shepherd Dog

BEST COUPLES
1st group

:

Deutsher Schaferhund

.

Owners: Z Sutidze & T Broian (Georgia)
2nd group: Rottweiler. Owner: V Sikharulidze (Georgia)
3rd group: Yorkshire Terrier. Owner: N Levchenko (
Ukraine
)
5th group:

Deut

s

cher Spitz (Kleinespitz)

.

Owner: I Meladze (Georgia)
6th group: Beagle. Owner: T Shavgulidze (Georgia)
7th group: Deutsche Kurzhaar. Owner: A Gabronidze (Georgia)
8th group: Golden Retriever. Owner: R Inashvili (Georgia)
9th group: Boultdogue Francais. Owner:

О

Fursik (
Russia
)
BEST IN SHOW - Yorkshire Terrier ILIAB BLACK SUPER STARS,
Ukraine
R. BEST IN SHOW – Rottweiler LEON BALU ISNIS UBNIDAN,
Georgia
3-rd IN SHOW – Golden Retriever SONATA OF THE HELLACIOUS ACRES,
Georgia
4-th IN SHOW – Beagle GALANT,
Georgia
Our congratulations to all winners!