CAC-CACIB FCI "Georgia 2011", 7 May 2011, Tbilisi, Georgia
The International All Breeds Dog Show CAC-CACIB FCI "Georgia 2011" took place in Tbilisi on 7 May.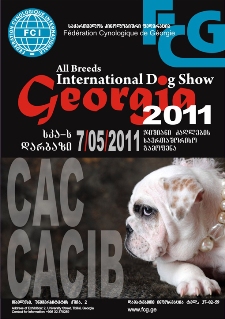 The Show was organized by the Fédération Cynologique de Géorgie (FCG) and had a great success. Around 200 of dogs from different countries were registered for it. The ring judgement was conducted by International Experts Mr. Yuriy Gergel (Ukraine) and Mr. Zaza Omarov (Georgia).
Winners:
1. Caucasian Shepherd Gog
3.
Caucasian Shepherd Dog
1.
Caucasian Shepherd Dog
1st Group: Welsh Corgi Pembroke. Owner: Merle Laut (
Estonia
)
2nd Group: Caucasian Shepherd Dog. Owner: Kennel "TABAKINI" (Georgia)
3rd Group: Yorkshire Terrier. Owner: Levchenko T. (
Ukraine
)
5th Group: Great Japanese Dog. Owner:
Gvdeladze T. (
Georgia
)
6th Group: Beagle. Owner: Petrov Radev B. (
Bulgaria
)
8th Group: Golden Retriever. Owner: Inashvili R. (
Georgia
)
9th Group: Boultdogue Francais. Owner:
Kandaurova J. (
Georgia
)
BEST IN SHOW
- Yorkshire Terrier KRASS ORION HARRY POTTER,
Ukraine
R. IN SHOW
- Welsh Corgi Pembroke ASTERSLAND PLEASE COME OUT TONIGHT,
Estonia
3rd IN SHOW
- Great Japanese Dog
BOOBA
,
Georgia
4th IN SHOW
- Caucasian Shepherd Dog BUTKUNA TABAKINI, Georgia